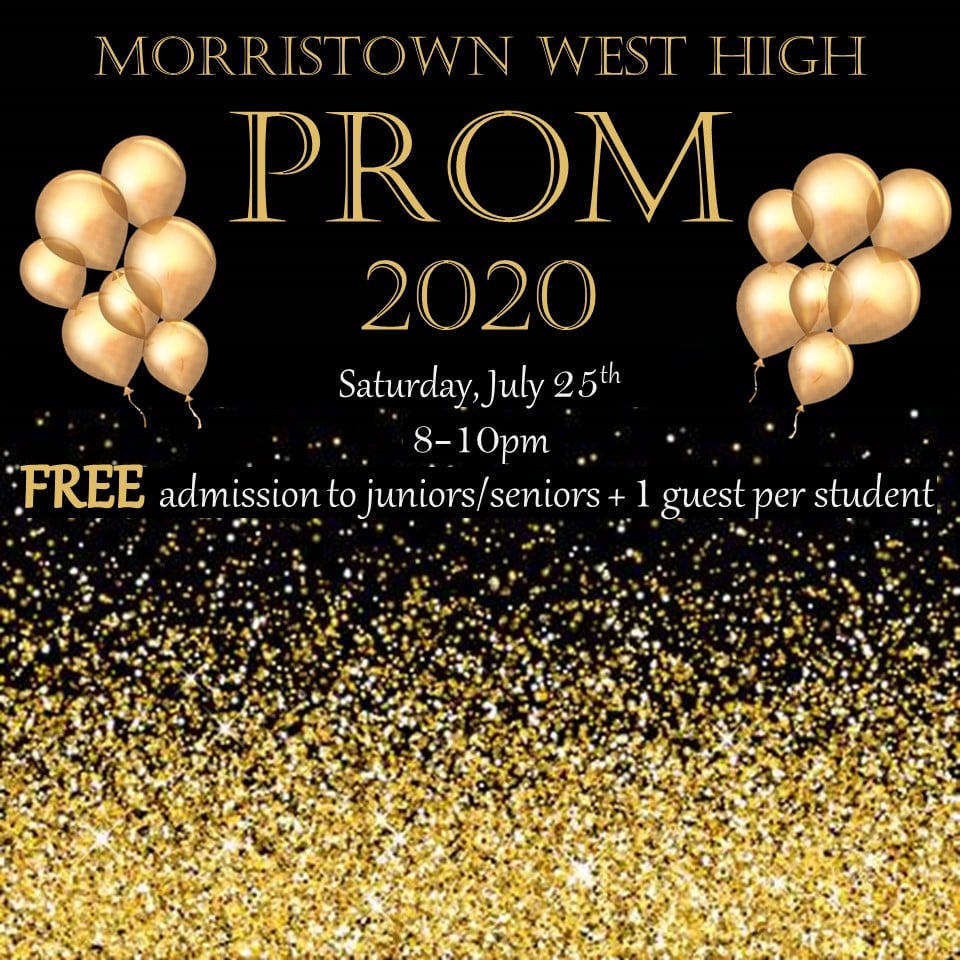 PROM 2020
Saturday, July 25th
8-10pm
West High Gym and Freshman Academy
FREE event – A parting gift to our seniors!
Nothing can replace the special night you should have had in April, but we hope to provide you with one last opportunity to celebrate your time at West, even though it has to look differently this year due to CoVid-19 and building construction.
Prom 2020 is open to all students who were juniors or seniors in the 2019-2020 school year, and each student may bring one guest. Student and guest must arrive at the same time. Everyone will be checked in at the gym breezeway door – no need to get a ticket or register ahead of time. Security wanding and temperature checks will be conducted on all students and guests at the door.
We will have multiple photo booths for free pictures and boomerangs sent directly to student phones, a "Stroll of Memories" gallery walk with pictures and videos, and a DJ for music (although dancing will be limited due to social distancing efforts).
Masks are highly encouraged, but not required. Sanitizer will be available in several areas. Staff will assist with sanitizing throughout the evening, encourage social distancing, and prevent students from gathering in large groups.
Senior students who are checked in as a couple by 8:45pm will be placed on the ballot for King and Queen, and voting will take place electronically from 8:45-9:30pm. Winners will be announced at the end of the night by the DJ and via social media.
Prom dress code will be enforced for both students and guests and can be found on the school website under "Social" and "Prom Guidelines" or by clicking this link:
https://mhhsw.hcboe.net/promguidelines
Prom Attire Guidelines

Ladies, please adhere to the following guidelines:

• Neckline must not go below breasts in front nor be too revealing on the front or sides.

• Back of the dress should not fall below the waistline.

• Dress fabric should not be see-through. • Short dresses must fall pass the mid thigh area.

• Slits in the skirt should not go above mid thigh (front/back/side).

• The top band of a skirt or pants must fall above the belly button all the way around the waist.

• Dresses must not be too revealing for a school sponsored event.



Men, please adhere to the following guidelines:

• Tuxedo, or suit with tie, or dress shirt, dress pants, jacket, with tie are all appropriate choices.

• Appropriate dress shoes should be worn.

• No Blue jeans will be allowed.

• Shirts may not be removed. T-shirts are not appropriate for the occasion.

Students, remember that you are responsible for the attire of your invited guests. This policy applies to West high students of all grade levels as well as the students from other schools. Please inform them of the guidelines and ensure that as a guess they are in compliance. Address any questions regarding appropriate attire with Mrs. Story or an administrator prior to the Prom.